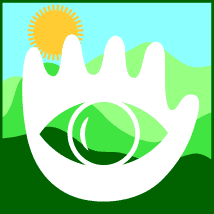 SVCB: Access to Life

SVCB Home page
Welcome to the Silicon Valley council of the Blind's web site. We hope you enjoy it and come back often.
For membership information, contact our membership chairperson at membership@svcb.cc. You can also leave a voicemail message at 888-652-5333.
---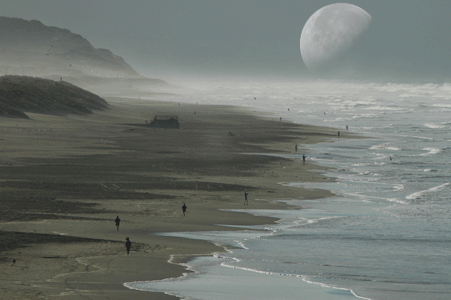 Photo by Brian Higgins, SVCB member
A distant view of an overcast sandy beach shoreline with low waves and people walking along the water's edge, with a moon low in the sky above a sea mist and nearby cliffs.
---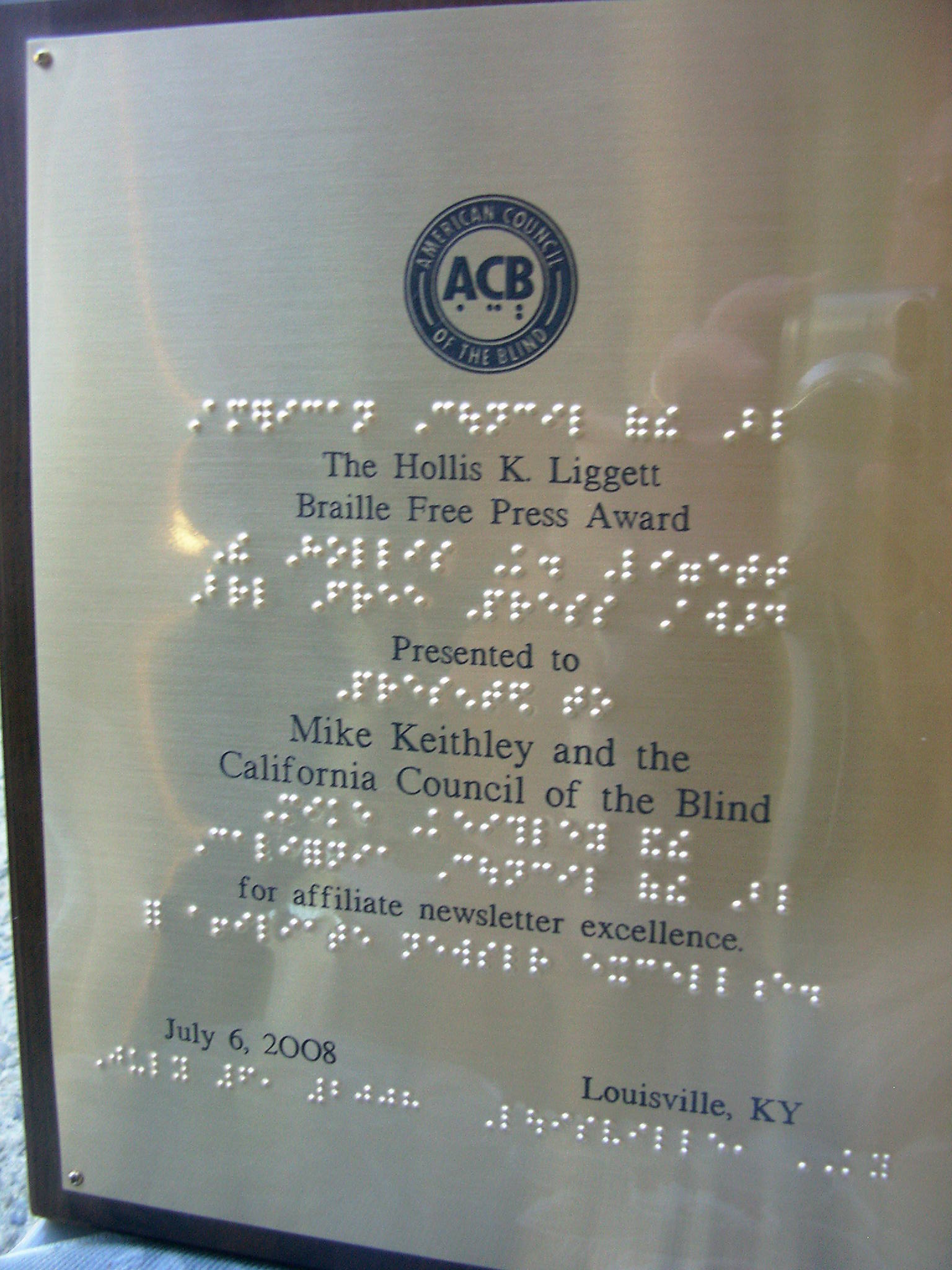 The Hollis K Liggett award
Presented to the Blind Californian
and former Editor Mike Keithley, SVCB member
A photo of the silver metal engraved plate on a dark wood plaque has the ACB logo at the top, with each line engraved in Braille, and reads:
"The Hollis K. Liggett Braille Free Press Award Presented to Mike Keithley and the California Council of the Blind for affiliate newsletter excellence, July 6, 2008, Louisville, KY."
---
The Barbara Rhodes Adaptive Technology Grant Program
Launched in 2010, this program annually awards a grant of up to $1000 to a blind or visually impaired person living in Santa Clara, San Mateo, Santa Cruz or San Benito Counties who can best demonstrate the need for adaptive technology that will improve his/her quality of life or advance his/her educational and/or employment opportunities.
Examples of items that the grant might fund include, but are not limited to:
Polarizing sunglasses
Hearing aids and audiologist fees
Mobility aids (like white canes) and payment for mobility instructors
Adapted mobile devices
Adapted computers
Repair of adapted computers
Magnifying systems
Medical aids
Bar code readers
2010 Grant Recipient Awarded $1000 for a Trekker Breeze
Our first recipient, Fulton Mah of San Jose, received a Trekker Breeze, a GPS system designed for visually impaired people, at SVCB's February, 2011 meeting. Fulton told us how his award will help him travel on foot and use public transit.
---
2012 Awardees
The 2012 grant recipients were Ms. Lynette Kersey and Mr. Abdihakiin Ahmed, both from San Jose. Both award recipients are blind. Ms. Kersey was awarded a Language Master talking dictionary to help her teach braille to blind students whose first language is not English. She also used her grant funds to purchase a 1-year maintenance agreement for her braille notetaker, a computer that she uses for teaching, and for her work as a braille proofreader.
Mr. Abdihakiin Ahmed is the founder and developer of a nonprofit organization called East African Visually Impaired Community (EAVIC) which advocates for the East African Blind Community in both the Bay Area and Africa. He was awarded an iPhone, which he plans to use to enhance both his personal independence and his nonprofit organization.
---
2013 Award
The 2013 technology grant was awarded to Ms. Susan Durst of Santa Cruz California. Ms. Durst is a client of Vista Center for the Blind, and she has been losing her eyesight for some time now. She received a Junior Goose Neck Lamp that affords good lighting for low vision people, and a Pico Magnifier, a small CCTV that fits in a purse. Though retired from her career, she enjoys an active life complete with lots of reading.
---
2014 Award Recipient
The fifth-annual Barbara Rhodes Adaptive Technology Grant, awarded at SVCB'S April, 2015 membership meeting, was awarded to Mr. John Vandervort of San Jose! Mr. Vandervort has partial sight, and for some time now has found reading difficult. He requested the following items: Reinecker MANO Portable CCTV (a portable video magnifier), ZoomText Update version 10.1, and the Jim Bliss Low Vision System +training course.
---
2015 Awards
Our 2015 Tech Grant award winner was Ms. Camille Gilmore. Diagnosed as legally blind with glaucoma at the Vista Center Low Vision Clinic, Ms. Gilmore has attended Mission College since 2011, where she is earning a Community Health Worker certificate, and an Associates Degree in Sociology. She has thus far completed 60 units, and she has 3 more semesters to complete. In addition to her studies, Camille volunteers as an assistant in the Adaptive PE program at Mission College. She will use her grant award to purchase school supplies and adaptive technology. From the Vista Blind Center store, she'll purchase Eyewear shades, 10-20 pens, bold line paper, Symantech Endpoint Protection, a Kurzweil 1000 upgrade, and a Clear View c Speech 24-inch HD Desktop Magnifier. Congratulations, Camille!
---
The 2016 award
The 2016 Barbara Rhodes Technology Award was given to Lupe Medrano. Lupe is a long-time SVCB member, and she received an iPhone along with funds to pay for training at the Silicon Valley Blind Center and funds to cover transportation costs to and from the center. Lupe hopes that her iPhone will help her be more independent.
---
Our Next Barbara Rhodes Technology Grant Fund raiser
Save the dates and spread the word! Please join us for our next Tech Grant fund-raising event at Marie Callender's (751 East El Camino Real, Sunnyvale, CA 94087) any time Monday, October 23 and Wednesday, October 25, 2017 (11 AM-9 PM), for lunch, dinner, dessert or snack, or even to purchase a pie to take home! Please call 408-245-3710 to make reservations if you have a party of 6 or more. Present one of our fund-raising event flyers to your server, and Marie Callender's will donate 20% of each purchase (excluding alcohol, tax, and tip) to SVCB's technology grant! We'll have flyers at our September and October meetings. You may also download and print the required flyer by visiting this link.
---
For more info about the Barbara Rhodes Technology Grant, call 888-652-5333 or email svcb@onebox.com. You may also download a large print version of the 2017 Grant application.
---
Our Next Meeting
Don't miss our next meeting! If you are in the San Jose area, please come and join us. Our meetings take place every third Saturday in the community room of the Monte Vista Terrace Apartments (1101 Grant Road in Mountain View) and run from 9:30 AM. to 1 PM. The Monte Vista Terrace Apartments are one block from the intersection of Grant Road and El Camino Real and are accessible by bus #22.
To read timely announcements and find out what will be happening during our next meeting, read our Phone Tree message.
---
Our Mission
The Silicon Valley Council of the Blind (SVCB) is a membership organization of persons who are blind or visually impaired, our families and friends. Our goal is to improve the quality of life for all persons with vision loss through advocacy and mutual support.. We are organized as a chapter of the California Council of the Blind, which is a state affiliate of the American Council of the Blind, and draw our membership largely from Santa Clara County.
Read SVCB's complete Mission Statement.
---
Become a member of SVCB
SVCB is a support group for visually impaired people. If you're visually impaired or want to help, become a member. Although our meetings are open to everyone interested in the blindness community, SVCB membership has these additional benefits:
You can serve on the Board or committees and directly influence chapter activities in the blindness community.
You can participate in special SVCB activities such as outings.
You automatically become a member of the California Council of the Blind, whose mission is to improve the quality of life for visually impaired people in California. SVCB is a local chapter of CCB, and we actively assist members to participate in CCB conferences and conventions as well as network within the CCB family.
You are a member of the American Council of the Blind, the national organization dedicated to improving the quality of life for visually impaired people in America and the world. Since CCB is a state affiliate of ACB, you'll belong to the ACB family, and we help visually impaired people attend ACB conferences and convention.
Becoming an SVCB member is easy, just fill out a membership application (along with membership dues of $10) and send it to P.O. box 493, Mountain View, CA 94042-0493. You can download a print application here and follow the instructions. For more information, email membership@svcb.cc or call our voicemail box at 888-652-5333.
---
Transportation
For visually impaired people, getting around is a head-scratching, serious problem. Member Lupe Medrano chairs SVCB's Transportation Committee. For information, come to any membership meeting and talk to her.
---
Photo of Roger Petersen
A photo of Roger standing with a smile on his face in front of a bank ATM machine holding the top of his cane in his right hand and cash and a receipt in his raised left hand after making a withdrawal, with his listening headset still plugged into the ATM machine.
---
Quick Links
SVCB-related links
---
World-related Links