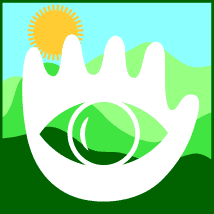 SVCB: Access to Life br>
Cam Acker's Transportation Page
Welcome to Cam Acker's transportation page! It is a summary of Cam's transportation efforts for SVCB.
Table of Contents
---
Introtuction
When you can't see well enough to drive, getting around is a real problem. Aside from walking to nearby places, visually impaired people depend largely on public and/or paratransportation to carry on daily living. Busses, train and lite Rail are the familiar forms of public transportation while paratransit is the ADA-mandated Title VI transportation service for those who cannot use public transport due to a disability.
In Santa Clara County, Valley Transportation Authority (VTA) provides bus and lite rail service as does CalTrain, through the San Francisco to San Jose train line. Outreach and Escort are contracted through VTA, providing paratransit services.
These three companies are obligated through features of the ADA to accommodate disabled people, and the quality of service varies greatly.
As an SVCB member, I want to make sure our concerns and views are known to these organizations while we consume their services. Our lives are directly affected by the quality of their services.
Since joining SVCB I have attended VTA and CTA (Committee on Transportation Access) meetings. I intend to publish monthly any SVCB issues which are registered by our members and any news the VTA organization publishes regarding their disability transportation policies. I also plan to keep you updated with other transportation news that I come across while attending these meetings.
---
Committee on Transportation Access (CTA)
This committee's members include one Board member, persons with disabilities, representatives of human service agencies within the county, and VTA's paratransit broker. The CTA advises the Board on bus and rail accessibility issues, paratransit service, public facilities and programs, and VTA's efforts to fully comply with the federal Americans with Disabilities Act (ADA).
Beginning December, the SVCB will become more active in the posting of all VTA transit issues to be presented to the VTA council and Board of Directors. I will act as SVCB's link to the VTA. The process will follow these steps:
1. Any SVCB member will register their issues directly to Cam Acker by sending a statement of their issue directly to her at cmacker@usa.net.
Statement of issues should include:
Name of SVCB member registering the issue.
Specific details of what has incurred.
Type of transit used (Lite-rail, fixed-route bus, or paratransit. Along with a request for resolution, i.e need for clearer and/or louder announcements for transit stops on VTA fixed route buses.
2. Each of the issues will be then posted on our SVCB Home Page, on a monthly basis, prior to our monthly meetings so the issues can then be discussed during our monthly meetings as needed.
3. Cam will relay each issue to the VTA, directly.
4. As each issued is resolved by the VTA, those resolutions will be recorded on the SVCB home page. Expect the first issues to be posted by the second week of December 2011. Any questions regarding this process can be sent directly to Cam Acker at cmacker@usa.net
---
Other Transportation Resources
Trains
San Mateo County
Santa Clara County:
www.vta.org/inside/boards/governing_board.html
A link into the CTA web pages
Other
---
NOVEMBER, 2012 TRANSPORTATION NEWS
by Cam Acker
1. News from latest VTA meeting
a. A discussion regarding the possibility of VTA issuing a Senior Clipper Card occurred. Further discussion will happen at our next meeting in January.
b. The MTC (Metropolitan Transit Commission) is working on an update plan to improve all fixed-route bus stops, as needed.
c. We discussed the bus issue which occurs at the corner of California and El Camino, where the 522 and 22 buses don't have space to stop at the same time. Oftentimes the 22 passes by when the 522 is stopped. The VTA has issued a notice to operators of the 22 line to observe ALL stops when customers are waiting, even if a line 522 is currently at the stop.
2. We have two transportation issues which involve both state and city work.
a. APS (Automated Pedestrian Signals) at Grant Road and El Camino Real: The state is currently working with the city of Mountain View. The state has given the city the material requirements, and as soon as the equipment has been purchased by the city, the state will begin its work on the intersection. I might add that it was pointed out to me that, for some people, the sound signals would not be sufficient, and we have added to the installation requirement the need for hand-buzzers at all four corners for those who need added help in determining when it is safe to cross.
b. APS at the corner of Castro and El Camino: The White Cane Walkers discovered that not all APS at this corner work correctly. I have investigated and confirmed which signals work and which need repair. This information has been passed to the state officials, and they have entered a work order for those needed repairs.
3. There is one further issue: the vehicle barrier to prevent passengers from falling on the light rail tracks. The bids from 3 construction companies have been submitted, and we assume the lowest bid of $890,000 will be accepted. When the bidding stage is completed and the materials have been purchased, the work should begin.
Stay tuned for further updates on all Transportation issues.
Please send any concerns and/or issues directly to me at cmacker@usa.net.
---
February, 2013 Report
The following information concerns the two Caltrans ADA Infrastructure Program Projects:
As far as the status for Grant Road, the equipment purveyors have stated that they expect the equipment to arrive in the next few weeks. Once this happens, scheduling will begin for the actual physical installation of all the new buttons at Grant Road (0133-001). At the same time, the audible signals and repairs on Castro (0133-002-005) will be addressed.
---
Quick Links